Live Craps Casinos
Live Craps casinos offer the closest experience to the real one and you can enjoy it at any moment, from desktop and mobile devices. Find the best casinos with Live Craps here, learn about the game, and start playing!
Best Live Craps Casinos
Join the best Live Craps casinos and enjoy and experience as close to the real one as it gets! Play with real human dealers and have fun on any device!
All Live Dealer Craps Casinos
Filter by:

546 results
CASINO
SOFTWARE
Free BONUS
Sorry, no results were found.
Try the Newest Craps Games for Fun
Play the newest Craps games for fun, without deposit, and test your strategies! Have fun while learning the table layout and the bets without risking any of your own money.
All Craps games
What is Craps?
Craps is a dice game in which players may place a variety of bets and combinations of bets on the outcome of a dice roll. The game is now very popular and it has been so for years, being present in almost all land-based and online casinos.
It started as a street game. Back then, the basic rules were the ones we know today, but there was no equipment needed to play. You only needed a pair of dice and players would take on a crouched position and play right on the pavement.
Now Casino Craps comes with more than a pair of dice. It also has its special table with the most important bets on them.
You may find fewer Craps tables at a gambling establishment and more tables for the other games. This is because the game of Craps is very dynamic, with up to 20 players being able to join at the same time. Therefore, a crew of 4 or 5 people has to run the game:
Boxman - is more experienced than the dealers and oversees the entire activity at the table
Stickman - in charge of the proposition bets located at the center of the table and passes the dice to the shooter
2 or 3 Dealers - place bets and give players their payouts. Their number depends on the size of the table and the number of active players.
While being one of the most entertaining games in a land-based casino, with people having fun and being loud around the table, the game is also available online for players who enjoy comfort, peace, and quiet.
You can play Casino Craps online or you can play Live Casino Craps and have the experience of being there without dressing up and actually going to a casino.
5 Reasons to Play Craps Online
If the dynamic gameplay and lots of fun the game comes with are not enough to make you try it, here are the best 5 reasons to play Craps online:
You can use Craps casino bonuses
The possibility to use casino bonuses in online Craps is maybe the best reason to play. These promotions are very lucrative, offering you extra funds to use, thus extending your gaming session and giving you more chances to win.
You can get casino no deposit bonuses simply for signing up, or claim welcome packages right on your first deposit. Choose the ones that best suit you, claim them, and have more fun than you have ever imagined!
It is convenient and accessible
In order to play in a land-based casino, you have to dress up according to the dress code, take a ride, and be around many people who can be very excited and loud. For some people, this does not sound like fun at all.
If you prefer peace and quiet but also to enjoy a fun game of Craps, you can do so in the comfort of your own home by either playing online Craps or Live Casino Craps.
It is a lot cheaper, as you do not have to buy drinks or pay for cabs to and from the location, and it is quick and easy to access. You may even go even further and play on your phone or tablet while relaxing on the couch.
Lower minimum bets
Online casinos with Craps usually allow players to make a minimum bet that is lower than the one in land-based casinos.
This means that the online version of the game is perfect for you if you are trying to stick to a budget or if you are a beginner and wish to start slow.
More variety
Land-based casinos do not have the capacity to offer as many games as an online gambling site, as they are conditioned by the physical space they have at their disposal.
There are not many Craps tables in gambling halls, but in online casinos, you have many options for both online and Live Craps. Also, while land-based casinos usually offer only the classic version of the game, online casinos offer many variants you can choose from.
You can play Craps for free
Online Craps casinos give you the opportunity to try the game for free. You can do this by claiming no deposit bonuses, therefore playing with credits you did not make a deposit for.
Trying the game without spending money or claiming bonuses is not possible in physical casinos, which is why many players prefer to gamble online instead.
Free vs Real Money Craps
You are ready to start playing online Craps but cannot decide whether to play for free or for real money? There are advantages and disadvantages to both versions, so let's take a look at them so you can decide which is best for you:
Free Craps

Real Money Craps

Great for beginners to see how the game works

Gives you the chance to win real money prizes

Live Craps is not available in demo mode, but you can play for free with a no deposit bonus

Both Online Craps and Live Craps are available

You can claim deposit bonuses which increase the amount in your casino balance

The gaming session is more exciting and rewarding
As you can see in the table above, real money Craps has more advantages than playing for free. However, it is very important to be able to try the game without investing money, especially if you are new to Craps or to gambling in general.
While you can find online Craps games for free, there are no Live Craps games you can join without making real money bets. You can only watch other people play. This may be useful for some players, but not enough for others.
Playing real money Craps gives you the complete experience, the excitement, the real prizes, and all the fun of the dynamic gameplay.
How to Play Craps Online
Playing online Craps is easy once you understand how the game works and what its rules are. If you are new to this game, here is how to play Craps online in 6 simple steps:
Choose the Craps variation you prefer. For complete beginners, we recommend a classic version, such as Betsoft Craps, as it is easier to learn the basics.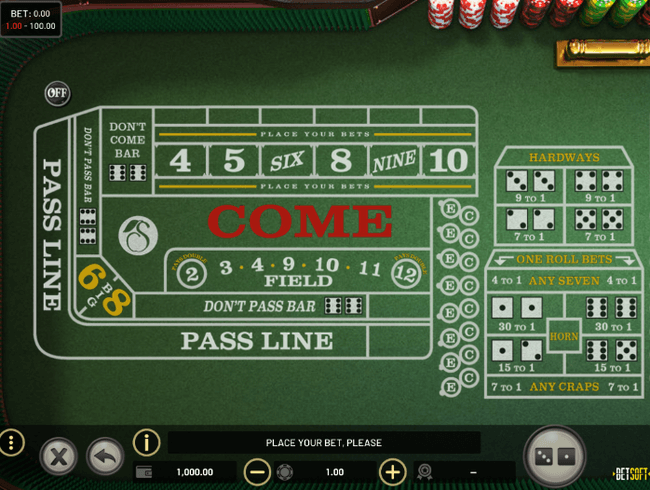 Select your bet by changing the chip value with the help of the "+" and "-" buttons you can see in the image below.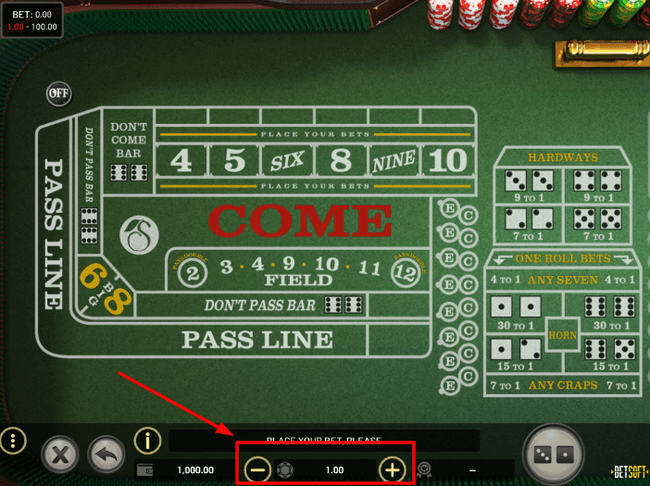 Place your chips in the areas corresponding to the bets you wish to make. You can make one bet or more. However, not all bets will be available at all times. Depending on the phase of the game, you will not be able to place your chips in certain areas. The total value of your bet appears in the top left corner in the case of this online Craps variant.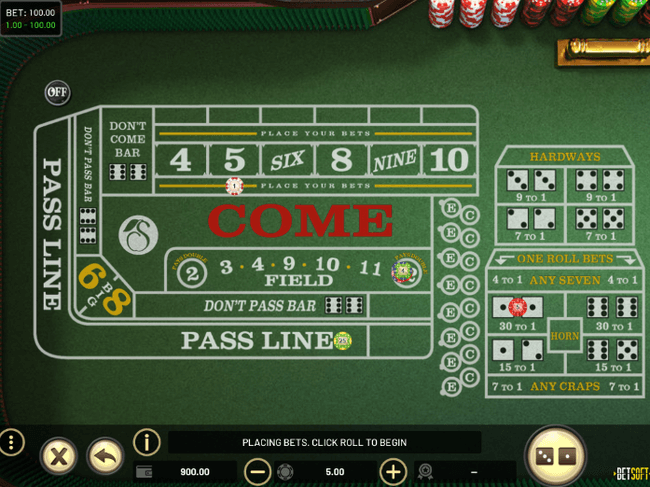 If you are happy with your bets, you can press the dice button and roll the dice to see if you won or lost. If you placed a bet by mistake or wish to reset and start over before rolling the dice, you can click the "X" button. This sends all your chips back and you have to place your bets again.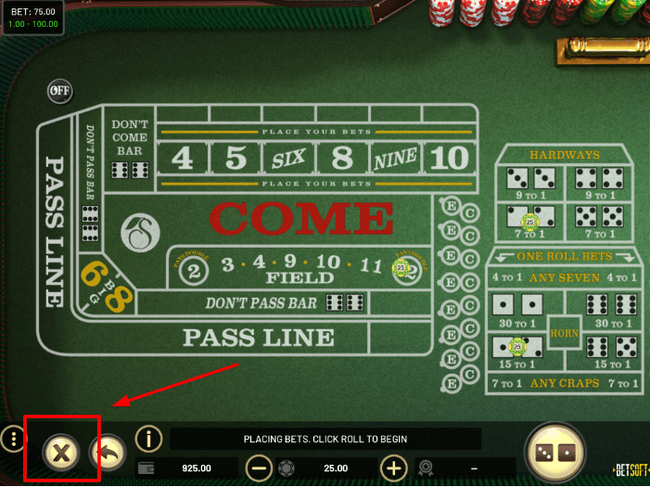 After pressing the dice button, the red dice appear on the table and the chips on the bets you lost are taken away. The chips on the bets still standing are on the table. You can leave them there and roll the dice again or click "X" and cancel them.
Also, a white button with the word "ON" appears on the table if a point has been established.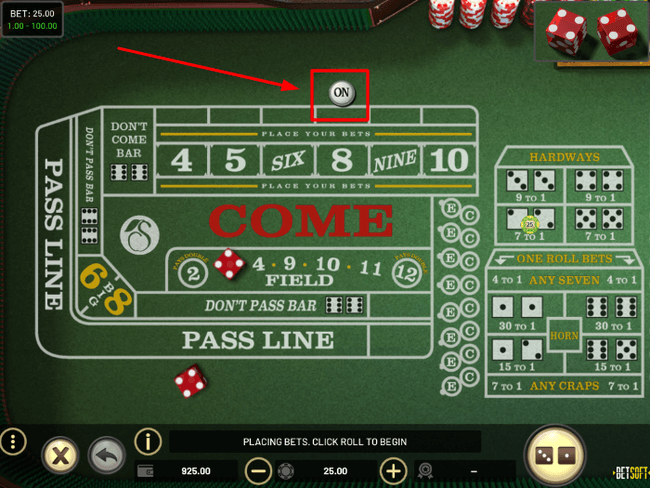 The game goes on like this for as long as you want to play. Both the free to play and real money online Craps have the same gameplay. The only difference may appear in betting limits, as different games may have different minimum and maximum bets.
Remember
Online Craps is different from Live Casino Craps in various ways. The most notable difference is the fact that you have limited time to place your bets. The bets work the same, but the game has a faster pace.
Online Craps Rules
For a better understanding of how online Craps for real money works, here are some of the basic rules you should know:
The game of Craps has two phases - The Come-out phase and the Point phase. The first one represents the beginning of a round, where the shooter has to roll the dice for the first time. Then, if the shooter establishes a point, the Point phase begins. This is different from the Come-Out phase because now the aim of the shooter is to roll that point number again.
On the Come-out roll, numbers 2, 3, 7, 11, and 12 can be winners or losers, depending on the bet you make. However, numbers 4, 5, 6, 8, 9, and 10 are point numbers. If one of these is rolled, a puck is placed on the respective number on the table with its white side up. This side of the puck has the word "ON" written on it, so players joining the game later know that point is currently established.
The Craps bets fall into two categories: single-roll bets and multi-roll bets. The first category consists of wagers that only stay up for one round, at the end of which you either lose or win. Some examples of such bets are Hi-Lo, Yo-Leven, or Any Craps. The second category consists of wagers that may stay up for multiple rounds until you either win or lose them, such as Pass and Don't Pass Line, Come and Don't Come, or Place Bets.
These are only the most important rules of Craps that every beginner should keep in mind. However, there is more to the game than just these three rules, so make sure you check out our in-depth online gambling Craps Rules guide. There, you will be able to find extensive information about bets, gameplay, and more.
Craps Bets and Their Odds
There is a large variety of bets you can make in a game of Craps, and it can be quite overwhelming for someone who is just starting out.
Therefore, we want to help you quickly understand more about the most important Craps bets and their odds. Take a look at the following table:
Craps Bet

True Odds

Payout Odds

Come

251 to 244

1 to 1

Pass Line

252 to 244

1 to 1

Don't Come (Bar 12)

1031 to 949

1 to 1

Don't Pass

1031 to 949

1 to 1

Pass / Come Free Odds

2 to 1 on number 4 or 10
3 to 2 on number 5 or 9
6 to 5 on number 6 or 8

2 to 1 on 4 & 10
3 to 2 on 5 & 9
6 to 5 on 6 & 8

Don't Pass / Don't Come Free Odds

1 to 2 on number 4 or 10
2 to 3 on number 5 or 9
5 to 6 or number 6 or 8

1 to 2 on 4 & 10
3 to 2 on 5 & 9
5 to 6 on 6 & 8

Hi-Lo

17 to 1

15 to 1

Craps

8 to 1

7 to 1

Yo-Leven

17 to 1

15 to 1

Snake Eyes (2)

35 to 1

30 to 1

Box Cars (12)

35 to 1

30 to 1
As you can see, some wagers pay out more than others. For example, if you win a Snake Eyes bet, you receive 30 times your bet amount.
You can learn more about Craps bets by reading our guides. Know the basics before betting your hard-earned money!
Important
The True odds of a bet are a representation of the actual probability of that wager to be won. The Payout odds are how much casinos usually payout if you do win that bet.
Play Craps Online With a Bonus
Online Craps is a lot better with a casino bonus to extend your gaming time and multiply your winning chances.
These promotions can come in the form of extra credits you can receive for making a deposit or simply for signing up. Also, you may find them in the form of Free Chips for Live Casino Craps.
Important
Casino bonuses come with their promotional terms, which can differ from one casino to another, and even from offer to offer, even if they are created by the same gambling site.
How to Claim an Online Craps Casino Bonus
If you are new to online gambling, we are happy to let you know that claiming such deals is very easy. Here is a quick and simple guide to follow when you are ready to claim a bonus:
Analyze the Craps casinos we have in store for you using the information provided, compare them and their offers, and choose the one that truly suits your needs
Visit the casino and create an account
If the platform offers a no deposit bonus, you are eligible to claim it now
If you want to benefit from a First Deposit Bonus or Welcome Package, you have to make your first payment
Head to the cashier, select the desired payment option, and follow the instructions on the screen to deposit money into your casino account
Once the money appears in your account, your deposit bonus should also be available.
Be aware
Some Craps online casino promotions come with a special code you need to type to claim it. For no deposit bonuses, the code must be typed in when you create your account. For deposit bonuses, you must type it when you make your payment. Also, pay attention to the minimum deposit amount required to receive the bonus.
5 Craps Tips for Beginners
Getting started with playing Craps is now easier than ever. Here are the main 5 tips for beginners you have to keep in mind when playing online Craps:
Set a budget and stick to it
Setting a budget before playing online Craps is imperative especially if you are a new player. Like in the case of any other game of chance, there is always a risk of losing money just as much as there is a possibility to win. Therefore, you have to be prepared for both.
Set an amount of money you can afford to lose in case it is not your lucky day and do not exceed it.
Another great tip is to leave while you are ahead in case it is actually your lucky day. Your luck can change at any moment.
Learn the basic rules before trying strategies
The game of Craps is easy to play once you know the basic rules, the terminology, and the table layout. Make sure you go over these and try to understand the basic gameplay before moving on to complex strategies.
Craps strategies can be fun and useful, but you have to first know the basics before you can successfully apply a strategy and assess whether it works as supposed to or not.
Avoid proposition bets
Proposition bets have the highest house edge in the entire game, meaning that they have the most chances to cause you to lose your bet. To make the most out of your budget and extend your playtime, we advise you to stay away from these in the beginning.
By placing bets with lower house edge, you have more winning chances and you can be in the game for longer, learning and advancing.
Bet against the dice
Bets such as Don't Pass have a lower house edge. In this particular example, the house advantage is 1.36%, which is 0.05% less than the Pass Line bet (betting with the dice).
The difference may not sound like much, but it surely matters in the long run.
Choose a trusted online casino
To apply all these tips and everything you have learned so far you need to create an account and start playing at a trusted online casino.
Craps is a very popular table game with a wide variety of online casinos offering it in their collection. However, not all of them are safe and trustworthy.
Go through our list of Live Craps casinos and find one fully licensed and regulated, with lucrative promotions, and which offers any other features you prefer and find to be useful to you.
Your first experience with Live Craps online will be a great one if you choose a reliable platform.
Play Craps Online on Your Mobile Device
You can play Craps online for real money on your mobile device regardless of the operating system it runs. Most old and new online casinos are available on mobile devices such as smartphones and tablets running iOS or Android.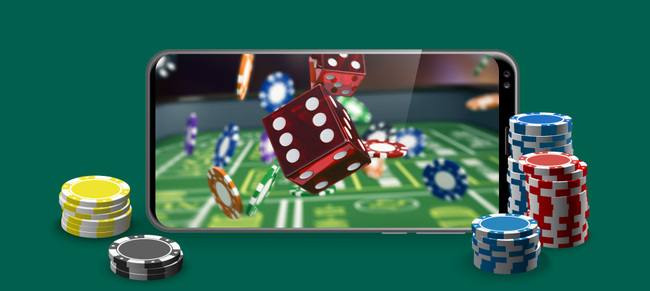 This allows you to play comfortably from anywhere, be it on your couch or while traveling.
You have the option to play both Online Craps and Live Casino Craps and, in addition, you can claim any casino bonuses right from your gadget.
Thanks to the ever-growing popularity of mobile gaming, the best online casinos created promotions that are exclusive to their mobile users.
We recommend you keep an eye out for those as they are just as rewarding and lucrative as the desktop ones.
Online casinos are available on mobile devices by accessing them from your mobile web browser or by using their app.
If the casino you have chosen offers an app, it will be available to download on their official website and only rarely on the App Store or Google Play Store.
One thing to keep in mind is that some mobile casinos have different apps dedicated to different game categories. Therefore, you may have to download the Live Casino app from them to play Live Casino Craps.
Remember
Only download gambling apps from the casinos' official websites or the App Store or Google Play Store if available. Downloading from any other sites may be dangerous for your mobile device, your data, and your personal information.
Live Craps Casinos Online - Play with Real Dealers
Playing Live Craps Online is your best option if you want to be comfortable but also enjoy an experience as close to the real one as possible. This is thanks to the real human dealers conducting the game and the possibility to chat in real-time with them.
The game has the same rules in its live versions, with the only notable difference being that instead of having a shooter throw the dice, they are automatically rolled. A Random Number Generator determines the final result.
The bonuses you can use may also be different. Some live dealer casinos offer bonuses specially created for their Live Games and they can come in the form of chips you use to place bets.
Remember
Always read the Promotional Terms of every online casino bonus you want to claim. This allows you to find out exactly how to use it and what conditions you need to meet, while also making sure you can use the deal on the games you wish to play.
History of Craps
Craps is a very old table game traced back to the times of the Roman Empire. With such a long history behind it, the base game has remained just as dynamic and entertaining. Some aspects have improved and that is how the game evolved to be available in online casinos and have its table.
The Origins of Craps
The game of Craps has been around for such a long time, that it is hard to correctly establish its origin. According to some legends, the game was invented by Roman soldiers and used their shields as a table and instead of dice, they threw pig knuckle-bones.
Another theory says that the game originates from Al Dar, an Arabic dice game that merchants brought to Europe in the 12th century.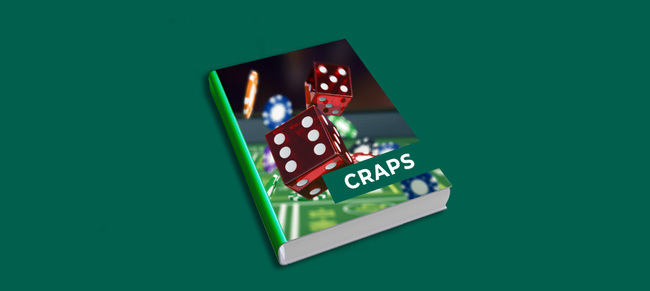 While these are interesting to think about until further proof, the most widely accepted theory is that Craps was invented during the Crusades and during the 17th century it was very popular in French taverns.
This was mainly thanks to the fact that it required no equipment or much space. Players would just crouch over a floor, sidewalk, or simply play it on a table at the tavern.
The American version of this game was brought to New Orleans by Bernard Xavier Philippe de Marigny de Mandeville. However, at first, casinos used unfair dice but John H. Winn, a dicemaker from Philadelphia, fixed this by introducing a layout that contained Pass and Don't Pass bets.
During World War II, the popularity of Craps skyrocketed, as members of the military of all ages would play its informal version, using any flat surface as their table.
Why is the game called Craps?
The rather funny name of the game of Craps has its history. The first version of this game was called Hazard, presumably named after a castle called "Hazarth" or "Asart".
In France, the name "Craps" appeared because of the position the players would take during gameplay - crouched over the floor. Therefore, the name "craps" could come from the word "crapaud", which means "toad" in French.
A different theory says that the game was named "krabs" or "crabs", which meant the numbers two and three in aristocratic London.
It is believed that Louisiana players mispronounced this term, which ultimately became the official name of the game we know today - Craps.
Conclusion
Now you have all the basics you need to start playing Live Craps for real money.
You know the rules, the gameplay, the bets, and their odds, along with other useful and interesting information about the game.
Here, you will also find plenty of online casinos that offer Live Craps games. Check them out, compare them and their offers, and join the one that best suits you.
Grab a casino bonus to get an extended gaming session, start playing Live Craps and have lots of fun!
Play Other Live Games for Real Money