Boku Accepted Online Casinos
Boku allows you to make casino deposits without a bank account or personal information. The amount will be charged to your phone bill with no additional fees. Below is a list of casinos that accept Boku, so you can choose one based on your preferences.
List of All Boku Casino Sites
Filter by:

29 results
CASINO
DEPOSIT
WITHDRAWAL
Sorry, no results were found.
Boku - Short Overview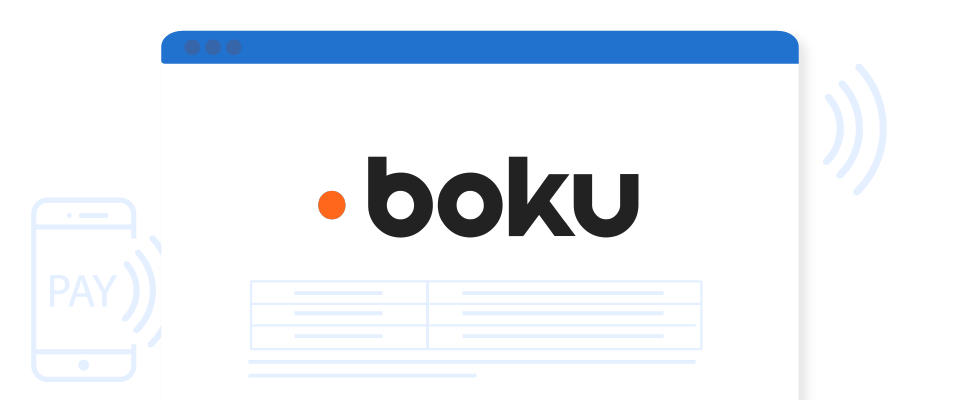 Boku is a mobile payment method that allows transactions via the user's mobile device. The service is delivered by Boku Inc, a payment service provider founded in 2009 as Vidicom Ltd and situated in San Francisco, California.
By choosing Boku as your payment option, you are authorizing the merchant (or, in this case, the online casino operator) to bill your phone service provider, who will then collect the charge by adding it to the user's phone bill.
Boku allows users to purchase digital content and services such as games, music, and videos and charge them directly to their mobile phone bill or prepaid balance.
The method is supported by 250 mobile providers across 60 global markets, which places Boku shoulder to shoulder with Facebook and Visa.
Why Use Boku in Online Casinos?
There are several reasons why you might consider using Boku as a payment method for online casinos:
Security. Boku offers a secure payment method without revealing personal or financial information. When you use Boku, you only need to provide your mobile phone number, which is used to verify your account and authorize transactions.
Convenience. Boku allows you to make payments using your mobile phone, a quick and convenient way to complete transactions. You don't need to enter credit card details or remember passwords, simplifying the process.
Keep in mind
You don't need a bank account to make payments via Boku. All you need is a smartphone and a mobile number.
Speed. Transactions you make through Boku are processed instantly, meaning your funds will be available in your casino account immediately. This allows you to start playing your favorite games without any delay.
Limits. Boku imposes daily transaction limits, which can help you control your gambling and avoid overspending in online casinos.
How to Use Boku
Using Boku does not require registration or account set-up – to submit your online casino deposit, simply select the method as the preferred payment option and fund your casino cashier.
The option is, however, reserved for casino users with an active UK phone number and comes at a daily spending limit of £30.
How to Check Your Bill When Using Boku
To check your phone bill when using Boku as a payment method, you can follow the steps below.
Contact your mobile network operator. Boku payments are charged directly to your mobile phone bill, so you will need to contact your mobile network operator to check your phone bill. This can usually be done by calling their customer service number or logging into your account on their website.
Check your billing history. Many mobile network operators allow you to view your billing history, showing you a breakdown of your charges and payments. This can be a useful way to keep track of your Boku payments and ensure you do not exceed your daily deposit limit.
Check your Boku account. If you have registered for a Boku account, you can also check your transaction history to see a list of your Boku payments. To do this, log into your Boku account and go to the "Transaction History" section. This will show you a detailed list of your Boku payments, including the amount, date, and merchant.
It's important to keep track of your phone bill when using Boku as a payment method, as it's easy to overspend if you're not careful.
By checking your phone bill regularly and keeping within your daily deposit limit, you can ensure that you control your spending and enjoy a safe and responsible gambling experience.
How to Use Our List to Find a Boku Online Casino
Boku is on the list of available payment methods at various online casinos. Should you like to sort the list chronologically or according to user ratings, CasinosLists.com enables you to do that by simply clicking on the Newest or the Top rated tabs to the right.
Only to see casinos available in your country, you can check the country flag box to filter your results. Moreover, checking the "free bonus" box only displays casinos offering no-deposit bonuses.
Deposits, Withdrawals, and Fees
Regarding fund management, Boku has some distinct advantages, but it also comes with some disadvantages. Here are the steps for depositing with Boku in an online casino.
Go to the online casino's cashier and select Boku as your payment method.
Enter the amount you wish to deposit and your mobile phone number.
You will receive a text message with a verification code. Enter the code in the online casino's cashier to confirm the transaction.
Your deposit will be credited to your casino account instantly.
Important
Boku imposes daily deposit limits, depending on the online casino and your mobile network operator. These limits can help you control your spending and avoid overspending at online casinos.
Keep in mind
Boku is primarily a deposit-only payment method, which means that it's not possible to withdraw funds using this payment option.
If you have made a deposit using Boku and wish to withdraw your winnings, you must choose an alternative option, from a list of payment methods, such as bank transfer, e-wallets, or debit cards.
Boku charges various fees to merchants, but consumer fees are rare. The only fees you should know about, as a gambler, are currency conversion fees.